Natural gas–a valuable energy partner
Natural gas is the largest single source of energy for homes and businesses throughout the United States. Over 85% is produced domestically and comes to us through an efficient, safe and environmentally sound delivery system of about 1.5 million miles of underground pipeline. Natural gas is a domestic fuel so it's free of the risks of world politics that endanger supplies of some fuels.
Supplies of natural gas in the United States are plentiful.
Though natural gas demand has been relatively stable for several years, the American Gas Association (AGA) predicts increasing demand well into the next century. Fortunately, domestic natural gas production is capable of significant increases to meet the demand and maintain competitive prices. The AGA projects that by 2000 and beyond, 85 percent or more of natural gas consumed in the United States will come from domestic supplies.
Through science and technology we continue to discover new sources of natural gas and methods of recovering it that will keep increasing our supply. New sources such as seaweed, biomass (biologically produced living matter), the Gulf of Mexico and the North Sea are already providing vast quantities of natural gas.
Environmentally, natural gas is the cleanest fuel available
Of every 100,000 Btus (British thermal units) of natural gas extracted from a gas well, 89,000 Btus reach the customer. The gas delivery system is 89% efficient and because we use it in the same form that it comes from the earth, we describe it as a "primary fuel." Natural gas requires no expensive, pollution-causing processing and takes little energy to carry it through underground pipelines.
By contrast, the electricity-generating system is only 28% efficient. Electricity is a "secondary fuel," meaning it is produced from another energy source. Electricity is manufactured in a power plant where heat from water, coal, gas, oil or uranium produces steam to drive a turbine generator which produces electricity. Of every 100,000 Btus of electricity generated, only 28,000 Btus reach the consumer. 72% of the energy generated is lost in production and transmission, making electricity comparatively inefficient.
Electricity is an important fuel for some jobs, but count on natural gas to heat your home and business, provide hot water, cook your food and dry your clothes… jobs natural gas does best. Gas is also an ideal energy for use in manufacturing or processing of many products and materials because it is:
Environmentally clean
Economical
Plentiful
Domestic
Safe
Efficient
Convenient
Natural gas burns cleaner than other fossil fuels
Natural gas, gasoline, oil and coal are all fossil fuels, meaning they are formed over millions of years from decomposition of living matter such as dinosaurs and plants.
When burned, all fossil fuels give off emissions including sulfur oxides, nitrogen oxides, hydrocarbons, carbon dioxide and particulates. Amounts range from almost no pollution with natural gas, to substantial amounts with coal. That's why natural gas is called the "most environmentally clean of all the fossil fuels."
Urban smog, a major problem for heavily populated cities throughout the world, is caused by nitrous oxides and particulates emitted from burning coal and oil and operating gasoline- and diesel-powered vehicles. These substances react in sunlight with other pollutants to form smog which irritates eyes and noses, affects vision and breathing and deteriorates fabrics. Natural gas is composed mainly of methane, a non-reactive hydrocarbon that does not react with sunlight to form smog.
Using natural gas reduces air pollution
The greenhouse effect, heat trapped in the atmosphere, is believed to be caused in large part by carbon dioxide (Co2) released when fossil fuels burn. Natural gas is a fossil fuel, and it gives off about 50% less CO2 than coal, and 30% less than oil.
When oil or gasoline is refined, or when a nuclear plant generates electricity, the processes create additional pollutants. As mentioned earlier, natural gas enters the pipeline almost as it comes from the ground; it needs no pollution-causing processing.
Because natural gas is clean, it's playing an increasing role in helping the United States reach our national goals of energy security, a more competitive economy, and a cleaner environment. Studies conducted by the for Strategic and International Studies at Georgetown University show that the use of natural gas as a vehicle fuel is a proven and cost-effective technology that could contribute to U.S. energy security by decreasing our dependence on foreign oil.
Natural gas-powered vehicles (NGVs) help improve air quality
Despite substantial improvements in engine technologies, fuel efficiency and highway planning in recent years, motor vehicles still contribute up to 62 percent of the carbon monoxide (CO) found nationwide, as well as 26 percent of volatile organic compounds (VOCs) and 32 percent of nitrogen oxides (NOx), major contributors to ozone depletion1. With numbers of vehicles and emissions problems expected to increase into the next century, policymakers continue to place a high priority on controlling vehicle emissions. Using natural gas as a vehicle fuel is among their solutions.
Natural gas provides many environmental advantages over gasoline or diesel fuel. Vehicles that operate on compressed natural gas (CNG) emit far fewer emissions than the accepted standards for many pollutants, generate no lead compounds to contaminate air and soil and produce 16 percent fewer greenhouse gas emissions than gasoline-powered vehicles. NGVs meet the stringent requirements of the State of California's ultra-low emission vehicle (ULEV) standards.
Natural gas-powered vehicles have other advantages
NGVs are identical to vehicles powered by gasoline, except for the fuel tank and minor engine modifications. But, because they run on clean-burning natural gas, they are far less polluting, more reliable, safe and efficient. NGVs also need less frequent maintenance, have a longer engine life, and natural gas is usually cheaper per gallon equivalent than gasoline.
Commercial uses of natural gas
Natural gas provides energy for mining, producing goods and processing food; the chemical industry is the largest industrial user of natural gas. Iron, steel and aluminum mills and petroleum refineries also use large quantities of natural gas, as do glass, ceramic and paper-making industries.
Combustion of natural gas with other fuels makes it possible to use more domestic energy while meeting clean air standards. The select use of natural gas with coal or oil can cut fuel costs, reduce the impact of interruptions in our foreign oil supply and increase flexibility in choice of sites for new energy facilities.
Because natural gas emits essentially no sulfur dioxide and extremely low levels of particulate matter, it can be burned in the same or separate combustion units at industrial facilities or electric generating plants to meet environmental goals.
Current industrial uses of natural gas include:
Cogeneration– the use of a single primary energy such as natural gas, to produce both heat and electricity. This technology recovers and uses heat produced in the process of generating electricity, heat which is usually lost. It can significantly reduce energy costs of process heat, water heating or powering an absorption chiller. Natural gas cogeneration is now operating in industries such as data processing s, office buildings, schools, hotels, department stores and multifamily residential complexes.Fuel cells– high efficiency devices for generating electricity directly from a hydrogen-rich fuel such as natural gas. Fuel cells operate on an electrochemical process similar to a battery.The fuel cell process does not involve combustion; it's quiet and virtually pollution-free. Since fuel cells operate at high temperatures, they generate waste heat that can be recovered for water, space or process heating. The efficient, clean and quiet operation of natural gas fuel cells played a major role in the decision to use them to power many United States spacecraft.Commercial cooling– natural gas offers an increasingly attractive alternative to commercial electric air conditioning. High electricity costs and shortages of generating capacity are anticipated during peak demand periods. Natural gas cooling can greatly reduce peak demand for electricity and help defer the need to build more electricity-generating capacity. Natural gas systems are environmentally preferable to electric systems because they do not use the chlorofluorocarbons or hydrochlorofluorocarbons required in electric systems.
Natural gas is also the source of heating and cooling for office buildings, apartments and stores, and it provides energy for cooking in countless restaurants. Chefs usually prefer to cook with natural gas because it's efficient and allows precise temperature control.
Residential uses of natural gas
Residential use is a major market for natural gas. The gas industry projects 20 to 25 million new natural gas customers by the year 2010. In homes and apartments it is primarily used for space heating and water heating. Many also prefer gas for cooking, clothes drying, and with new technology, air conditioning.
New developments in residential gas heating and cooling
Today's homeowners are looking for improvements in heating and cooling for home comfort and efficiency.
The natural gas heat pump is the newest, most technologically advanced heating and cooling equipment available for homes today. It delivers superior comfort, the highest efficiency and the lowest operating cost of any residential heating and cooling system currently on the market. With an easy-to-use, fully- programmable, 7-day thermostat, you can literally set-and-forget the system. In the heating mode, the gas heat pump provides delivered air temperatures 10 degrees to 15 degrees warmer than an electric heat pump, eliminating cool, uncomfortable breezes at start-up. In addition, engine heat is recovered to increase comfort and efficiency.
Tests show that compared to electric heat pumps, the natural gas heat pump provides nearly twice the heating performance per energy dollar. Precise operating economics will depend on local energy prices which vary around the country.
At 53,000 Btu/hr, the natural gas heat pump has an equivalent AFUE rating of up to 126% versus 94% for the most efficient gas furnace. A 3-ton unit provides cooling at a seasonal energy efficiency rating (S.E.E.R.) as high as 15.6, tops for energy-saving technology, with 50% greater efficiency than mandated by law. Heat extracted from outside air, even when temps are low, is supplemented with waste heat captured from the gas engine, allowing for operation down to -10¡F. Below -10¡ a back-up natural gas boiler takes over.
With the natural gas heat pump, the delivered air temperature never drops to uncomfortably low levels during defrost cycles or periods of low outdoor temperatures, a common problem with electric heat pumps.
The desiccant whole-house dehumidifier removes about 80 pints of water per day from the home. Drier air allows the homeowner to raise the temperature setting on their air conditioner, cutting its energy use. The desiccant material in the unit absorbs moisture from air in the home; the moisture is vented to the outdoors and the desiccant is dried, or regenerated, by a stream of outdoor air heated by the home's natural gas water heater.
Natural gas baseboard heaters cost less to operate than electric models. Compact design and neutral colors make them attractive additions for most homes.
The new natural gas emergency power system starts up automatically within seconds of a power outage, providing backup electricity for refrigeration, computers, well pumps, lighting, heating or cooling, etc. When electrical power resumes, the electrical load automatically transfers back to the electric utility and the natural gas backup system shuts down.
Tests ensure appliance quality


The AGA laboratories test gas equipment and appliances. These tests ensure compliance with standards for safety, reliability and efficiency. Appliances that meet these standards carry the AGA Blue Star Seal.
Since about 70% of natural gas used in homes is for home heating, research has focused on developing more efficient heating systems. Most gas furnaces manufactured before 1978 are about 65% efficient. Today's furnaces have efficiencies as high as 96%; they use about 30% less fuel to heat a home than a furnace built before 1978. Future standards will require even higher efficiency ratings to ensure increasingly more economical use of natural gas.
Energyguide labels help you compare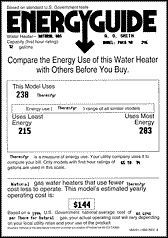 When shopping for natural gas appliances, remember: appliance models may appear similar, but efficiency ratings can vary widely. The Energyguide appliance labeling program simplifies comparison shopping. Bright yellow labels on appliances such as water heaters, refrigerators, freezers and dishwashers show their estimated annual operating costs.
The Energyguide label gives detailed information such as that shown on the example. This particular model of water heater uses 238 therms of natural gas per year at an estimated annual operating cost of $144. An electric water heater, on the other hand, uses much more energy — an average of 5,339 kilowatts annually. With electricity at 6.85¢ per KWH, the annual cost for electric water heating is $366. It's easy to see that natural gas water heating is a much better value; over ten years, you could save as much as $2,220.
Call your local natural gas utility company or the Minnesota Blue Flame Gas Association at (763)424-1841.